Pediatric Dentistry in South Lake Tahoe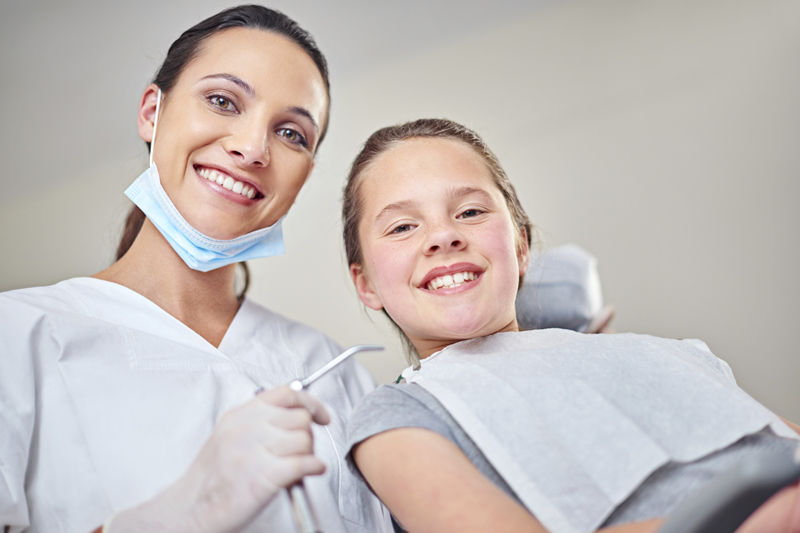 Why should toddlers see a dentist:
Let them get used to being at a dentist's office before they experience tooth pain.
Let the dentist check growth and hygiene to make sure your child has the best opportunity for a great smile!
What is a "Dental Home"?
The ongoing relationship between the dentist and you. High Sierra Dental Care understands it's important to establish a dental home by 12 months of age.
Just how important is a Dental Home?
The American Academy of Pediatric Dentistry (AAPD) supports the concept of a dental home for all infants, children, adolescents, and persons with special health care needs. The dental home is inclusive of all aspects of oral health that result from the interaction of the patient, parent, dentists, dental professionals, and non-dental professionals.
Establishment of the dental home is initiated by the identification and interaction of these individuals, resulting in a heightened awareness of all issues impacting the patient's oral health.
This concept is derived from the American Academy of Pediatrics' (AAP) definition of a medical home which states pediatric primary health care is best delivered where comprehensive, continuously accessible, family centered, coordinated, compassionate, and culturally effective care is available and delivered or supervised by qualified child health specialists.
Let us be your Dental Home.
The establishment of a dental home traditionally begins with the age 1 visit. This is especially important because it introduces your child to Dr. Ortega and her staff. Early dental visits allow the dentist to discuss proper infant oral health care, teach lifelong habits, and take preventive steps to avoid cavities.
Children who have a dental home are more likely to receive appropriate preventive and routine oral health care. Referral by the primary care physician or health provider has been recommended, based on risk assessment, as early as 6 months of age, 6 months after the first tooth erupts, and no later than 12 months of age.
Furthermore, subsequent periodicity of reappointment is based upon risk assessment. This provides time critical opportunities to implement preventive health practices and reduce the child's risk of preventable dental and oral disease.
What can you expect during Age 1 visits?
It begins when you're greeted in the office by Dr. Ortega and her welcoming staff. You and your child will be escorted to the exam room where everyone can get to know each other. After reviewing your needs and questions, Dr. Ortega will discuss growth and development, feeding, and oral habits.
At this visit, Dr. Ortega will also perform an oral screening, provide you with oral hygiene instructions, and discuss pacifier, finger, or other oral habits. Traditionally, the visit is done with the child lying on your lap.
What can you expect during your older child's first visit?
Your first visit begins when you are greeted by Dr. Ortega and her staff in the reception area. You will then be escorted to our exam room where we can get to know you and your child. Dr. Ortega will review your child's needs and answer many of your initial questions. If you have a young child, you are encouraged to stay with your child for their first visit.
It is important to develop a sense of trust between our dental team and you and your child.
As your child gets older and more comfortable with our office, we may encourage your child to come back on their own so that our team can develop a trust and rapport with your child. We realize every child is different and there is no definitive rule of when the children are supposed to be seen on their own.
Based on your child's specific needs, Dr. Ortega might make some recommendations on the best time to begin to develop an individual relationship with your child and our team.
Due to space considerations, it might be hard to accommodate the parents of all patients in the back treatment exam room at one time, but we will make the visit as comfortable as possible for everyone.
For older children, we encourage the child to actively participate in the visit by asking any questions that they might have. Mom and dad are usually amazed how wonderful their children listen and behave during the visit.
Occasionally, a child may cry during some part of the visit. This is normal age appropriate behavior and usually the child will work their way through it with a little compassion, positive reinforcement, and some TLC.
The first visit typically consists of a complete dental examination, cleaning, and fluoride treatment. This includes checking for cavities, gum disease, checking the bite for correct alignment of the jaws, and checking the development of the teeth. X-rays will be taken based on the individual needs of your child.
The appointment also includes a final consultation to address any further questions or necessary dental treatment.
What you can do to make the visit more enjoyable:
Present the visit as an exciting experience for yourself and your child.
Tell your child we will "count", "brush", and "take pictures" of their teeth. Explaining the exam and cleansing in these terms helps your child to better understand the situation.
Be relaxed and at ease. Your child will sense any anxiety on your part.
Avoid negative phrases such as "hurt", "drill", "pull", and "shot".